Within TourCMS there are three core methods for pricing Tours/Hotels: Departures, Freesale Seasons and Hotel type pricing. Each of these has is treated subtly differently on the first step of the standard TourCMS Booking Engine, with additional tweaks available. This page will cover each of those in turn, explaining some of the settings.
The changes listed here can be made in Channel Manager > Step 1 - Select your products.
Departures
Departures are tours that have fixed start and end dates (e.g. day tours, group tours, activities etc). There are three main ways that you can show departures to your customers in the standard Booking Engine:
List "By the month"
The default. Good if you have many trips, but each trip is multiple day duration, then a list of departures maybe clearer than the availability calendar.
Availability calendar
Good if you are selling a trip that has a single date duration (e.g. an afternoon city tour) and it runs every day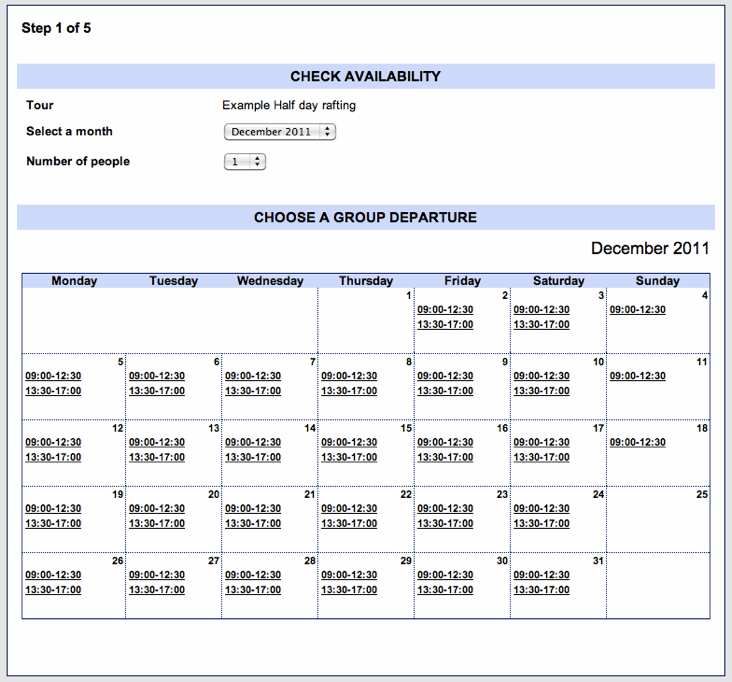 List "Next 10" (or next 20, 30, 100 etc)
Good if you run a tour say once every couple of weeks, or only a few times a year, you may not want your customers jumping around between months to see when your tours are running. (You may also like to untick the "show month dropdown" setting as the month becomes irrelevant to you)
Learn how to set up Departures.
Freesale Seasons
Freesale Seasons let the user select their own dates (start and end date) within the booking process. You can use this product type for tailor-made tours, accommodation provision (villa / ski chalet / cottage rental) etc and for tours where you don't care too much about hyper accurate inventory control.
You can change the "Start date" and "End date" text to make it, for example, "Arrival date" and "Departure date".
If there are less than 10 bookable start dates for a freesale (e.g. if you are doing villa rental Saturday to Saturday hence only have 4 start dates a month) then multiple start/end date selections will show.
See villa / ski chalet setup guide
Don't forget: Freesale and departure functionality can be placed on the same screen (for example if you have fixed group departures as well as tailor-made dates that are based on the same core Tour itinerary)
Hotel
Hotel product types are suitable for hotel style accommodation (!). However, you can change all the text descriptions and make the hotel functionality work great for tours where you offer different prices depending upon group size.
A calendar can also set to be shown - which is ideal for using hotel functionality for restricted dates bookings (e.g. for campsites, ski chalets or villas)